Welcome to
Unique Baby Gifts, Inc.
Gold Branded® Baby Shoes meets the need for easy ordering and great gift giving. This personalized baby shoe gift saves shopping time with competitive prices. Many people choose Gold Branded® Baby Shoes as their only baby gift. Customers have delighted families with these personalized shoes since 1972.
Choose from several gift options, place an order and experience a new gift giving option. We will send the gift to you or directly to the new mother.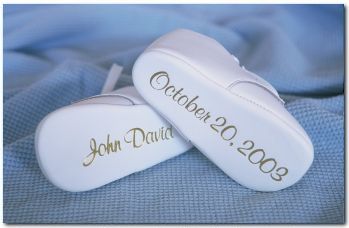 Size 1 soft sole crib shoes. Maximum 12 characters and spacers per shoe.
Personalized Gold Branded®
Baby Shoes & Gifts
These sweet personalized Gold Branded® Baby Shoes are unique to each new baby and are a keepsake for the parents. Browse the site for box gifts or a sibling gift to ensure older brothers or sisters will feel more connected to the new baby.
Why Our Customers Buy
Gold Branded® Personalized Baby Shoes
Eight Predominant Reasons
I enjoy giving a gift that creates joy and excitement. I have a reputation as the giver of these wonderful shoes. Friends expect them!
I have a pair of Gold Branded® baby shoes from my daughters birth 25 years ago. I can look at and hold them and remember when she wore them. These are my only baby gift.
The ability to order such a unique gift by phone or online and ship directly to the new parents helps manage my time demands. It is easy and convenient.
The customer service and speed of delivery is excellent for a personalized gift. I do not spend time chasing around town to find a great gift.
I like the value. Flowers, cookies or other consumable gifts cost about the same.
I feel the personalization with the baby's name and birth date expresses the importance of each new child. It leaves them with a tangible connection to their day of birth.
I like giving a gift that the mom intuitively knows will always remind her of the joy of her new baby.
It's fun to give a gift that parents are unlikely to buy themselves. They feel they must focus on the essentials like diapers, diapers and more diapers. In the distant future, it's the shoes that will bring them back.